When it comes to custom blankets, we understand that every client's needs are unique. That's why we offer a range of customization options to ensure that your blankets are tailored to your specific requirements. Whether you need blankets for your hotel, spa, or promotional event, we can create a custom design that perfectly fits your needs.
Nowadays, photo blankets are much more popular, we also got many photo blankets orders from our customers. So we understand that creating personalized photo blankets can be a challenging task. That's why we've compiled this blog post to guide you through the 5 essential steps in creating custom photo blankets that meet your specific needs.
Step 1: Choose the Right Fabrics
The first step in creating custom photo blankets is choosing the right fabric. At our factory, we offer a variety of fabrics such as cotton, wool, acrylic, and polyester. Each fabric has its own unique properties, and it's important to consider factors such as warmth, durability, and texture when selecting the material for your blankets. Depending on the intended use of the blankets, you may also want to consider whether the fabric is machine washable or dry clean only. Contact our sales team to ask for fabric swatches for your selection, also we have a lot of different weight fabrics to make photo blankets. Here below to list of our normal fabrics to make photo blankets.

Step 2: Select the Images/Artwork
The next step is to select the image or artwork that will be used. Our customers have the option to provide their own high-resolution images or artwork, which we can then use to create a truly unique and personalized blanket.
However, for those who may not have a specific image in mind, we offer an extensive picture catalog that includes a wide range of options. From stunning landscapes and famous landmarks to adorable animals and cute illustrations, our picture catalog has something for everyone.
Our team of experts can also send customers a selection of images to choose from, ensuring that they find the perfect image to suit their preferences and needs. We understand that every customer is unique, and we strive to provide a range of options that will meet their individual tastes and requirements.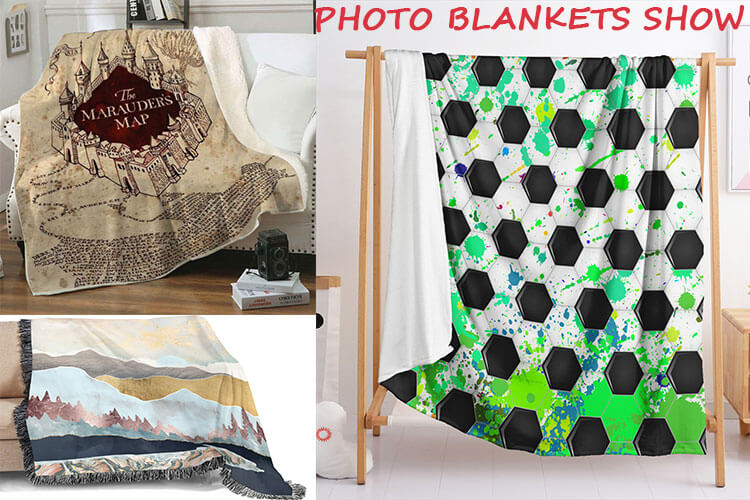 Step 3: Confirm the Size
The size of photo blankets can be fully customized according to the customer's preferences. Customers can inform us of their requirements, and we will determine the appropriate size based on their specifications. Additionally, we offer a standard-size chart for customers to choose from. The small size measures 100cm in width and 125cm in length, the medium size measures 130cm in width and 150cm in length, and the large size measures 150cm in width and 200cm in length.
After the size has been confirmed, our designer will create a CAD image for you to review the final product. This will give you an idea of how your photo blanket will look like before it goes into production. We want to ensure that you are completely satisfied with the design and layout of your photo blanket before we start the manufacturing process.
Our designer will work closely with you to ensure that the CAD image accurately reflects your vision and expectations for the final product. You'll have the opportunity to make any necessary adjustments or changes to the design to ensure that it meets your requirements.
Step 4: Print the Blanket
Once the design for the custom blankets has been approved, it is ready to be printed. The factory will use a specialized printing process known as heat transfer printing to transfer the image onto the fabric. This printing process ensures that the image is sharp, vibrant, and long-lasting. It involves applying high temperature and pressure onto the fabric to achieve a high-quality print.
The heat transfer printing process is an excellent choice for custom photo blankets because it can produce high-quality images with exceptional detail and color vibrancy. Additionally, this printing technique is durable and long-lasting, ensuring that the image remains clear and vivid even after multiple washes.
At our factory, we use state-of-the-art heat transfer printing technology to ensure that our customers receive the best possible custom photo blankets. Our experienced technicians carefully monitor the printing process to ensure that each blanket meets our high standards of quality and craftsmanship.
Step 5: Finish the Blanket
After the blanket has been printed, the next step is to finish it. This process involves trimming the edges to make them neat and even, sewing on any additional details, and adding any desired finishing touches. There are different ways to finish a blanket, such as whipstitching the edges, hemming the sides, adding long fringes, tassels, pompoms, and more. These finishing touches can add personality and style to the blanket, making it unique and special.
Step 6: Custom Packages
We understand that when it comes to custom photo blankets, our customers want a personalized touch in every aspect of their order. That's why we offer custom packaging options that allow our customers to add their own logo labels, hangtags, and belly bands to their photo blankets.
Our team will take care of sewing the labels onto the blankets, ensuring that they are securely attached and look professional. We will also create a flat package for each blanket, complete with a belly band that features your chosen design or logo. This not only adds a personalized touch to the packaging but also helps to protect the blanket during shipping.
Once the blankets are packaged, we will carefully master the cartons to ensure that they are ready for safe and secure transport. Our team takes great care in packaging each order to ensure that it arrives at its destination in perfect condition.
Conclusion
In conclusion, creating custom photo blankets is a simple and rewarding process that can result in a unique and cherished gift. By following the five steps we've outlined in this post, you can work with a custom blankets factory to bring your vision to life and create a personalized item that is sure to be treasured for years to come.
Whether you're looking to create a custom throw blanket or a full-sized custom blanket, there are many materials, sizes, and customization options to choose from. By selecting the right options for your needs and preferences, you can create a one-of-a-kind item that is both beautiful and functional.
At our custom blankets factory, we specialize in creating high-quality custom photo blankets that are tailored to each customer's unique needs and specifications. We use advanced printing techniques and quality materials to ensure that every blanket we produce is of the highest possible quality.
If you're interested in creating a custom throw blanket or custom blanket, a custom blankets factory in China can help you bring your vision to life. Get in touch with us today to start the process of creating your own custom photo blankets.