Fashionable, comfortable, and protective against the sun's damaging rays – a straw hat embodies the essence of summer accessories. As the temperature rises, no other adornment quite captures the spirit of the season like the right woven hat. Its versatility complements any outfit while staying resolutely timeless in the fast-changing fashion landscape.
While not exactly a fleeting trend, a straw hat is undoubtedly an underappreciated staple in most wardrobes. It's that unassuming item that, once acquired, prompts the question, "How did I ever do without this before?" Acquiring a straw hat today promises not only immediate satisfaction but also a future of endless compliments.
In the realm of straw hats, the choices are aplenty – a myriad of colors, shapes, styles, and more. But what sets apart the best from the rest is the balance between comfort, style, and sun protection. Hence, in the spirit of helping you discover the perfect summer companion, we(a custom straw hat maker) have carefully curated a list of the top 10 women's straw hats that master this delicate equilibrium. There's something here for everyone, promising a blend of function and fashion that will elevate your summer style while shielding you from harmful UV rays.
Review of Top 10 Best Women's Straw Hats by Custom Straw Hat Maker
Best Panama Straw Hat for Summer
Embrace the sun-drenched days of summer with this exquisite Panama straw hat. Made from 100% paper straw, this hat is the perfect blend of style, durability, and comfort. Its distinctive feature is the mixed/melange straw body that gives it a unique and visually appealing texture.
The hat is adorned with a tasteful beaded trim that adds an element of sophistication. Its subtle detailing makes it a versatile accessory that can complement your favorite swimwear or a flowy beach dress.
Ideal for beach getaways, this straw hat not only elevates your style but also provides excellent sun protection. Whether you're sunbathing on the sandy shores or enjoying a casual walk along the beach, this Panama straw hat is your perfect warm-weather companion.
Materials: 100 % paper Straw
Style: Panama Straw hat
Best Raffia Straw Hat for Beach
Experience the essence of summer with this handmade, elegant, soft straw hat. This beach-ready accessory, crafted by a skilled custom straw hat maker, is made from 100% raffia, ensuring it's both durable and comfortable.
The hat sports an asymmetrical crown fold and a  ribbon in a beige and white palette, lending it a breezy style. The frayed trim further enhances its casual appeal. This beige and white women's straw hat pairs well with various outfits and offers a stylish way to keep the sun at bay.
Note: Handmade from natural raffia, the hat's color and texture might slightly vary. To ensure its longevity, store it in a cool, dry place, away from direct sunlight.
Materials: 100 % Raffia
Style: Round Ribbon Hat
Best Visor Hat for Summer
It is a stylish and functional faux pearl embellished straw visor. Made from 100% paper straw by a custom straw hat maker, this visor offers both comfort and elegance.
It is designed with long-haired women in mind, providing a comfortable fit while keeping hair in place. The faux pearl embellishments add a touch of sophistication to your look.
Visors are essential for sun protection. With its wide brim, this straw visor shields your face from harmful UV rays, mainly your forehead, eyes, and nose. Stay fashionable while prioritizing sun safety with the faux pearl embellished straw visor.
Best Wide Brim Hat for Travelling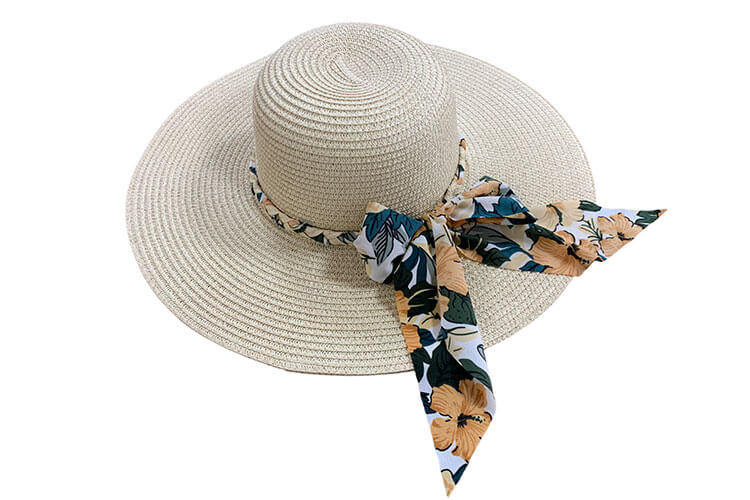 Introducing our wide-brim sun straw hat, expertly handcrafted by our custom straw hat maker. Made from 100% paper straw, it's lightweight, durable, and comfortable for all-day wear.
Featuring a vibrant tropical floral braid band with a digital print, this hat adds a touch of boho and tropical style to your summer look. With its wide brim, it provides excellent sun protection for your face, neck, and shoulders. So whatever body straw color or band patterns, both can be customized.
Stay stylish and protected with our fashionable sun straw hat, perfect for beach days and sunny adventures. Embrace the essence of summer with this must-have accessory.
Best Crochet Bucket Hat for Everyday-Custom straw hat maker unique design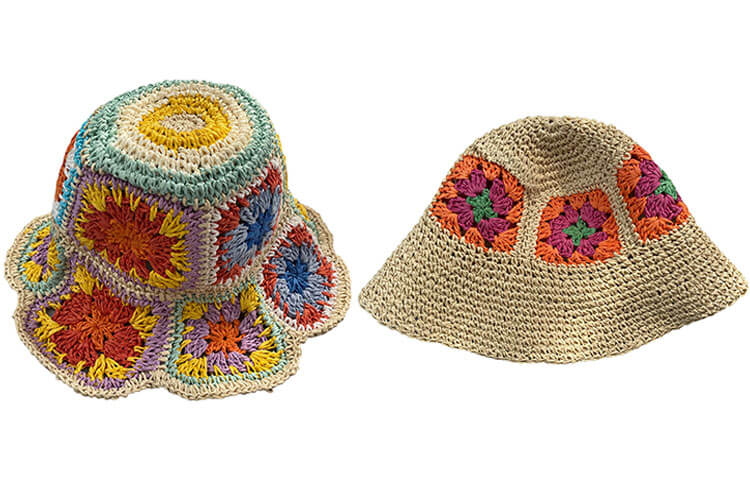 Introducing our stylish bucket straw hat, crafted from braided paper straw with a beautiful crocheted look. This hat features eye-catching granny squares in bright colors, adding a playful and vibrant touch to its design.
The wide, sloping brim not only enhances the hat's trendy appeal but also provides excellent sun protection for your face and neck, making it an ideal accessory for sunny days and outdoor adventures.
Stay fashionable and protected with our bucket straw hat, combining the charm of crocheted details and the versatility of a wide brim. Embrace the sun with confidence and add a pop of color to your outfit with this must-have summer accessory.
Best American Heritage Visor for Daily
The Trendy Apparel Shop UPF 50+ Women's American Flag Paper Braid Wrap Rolled Visor is an accessory made entirely from paper straw, designed specifically for ladies. This visor features a UV protective American flag design that adds a fashionable flair to your outdoor ensemble.
The accessory boasts a UPF 50+ rating, meaning it provides superior UV protection, effectively blocking both UVA and UVB rays. With a width of around 4 inches, the visor offers sufficient coverage to shield your face from the sun's rays.
One of its unique characteristics is its ability to be completely rolled up. This function allows for convenient transport and storage, as it can easily fit in your bag or suitcase while traveling without occupying much space.
This visor also includes an adjustable hook and loop closure and an elastic band tie, making it adaptable to different head sizes and ensuring it stays in place. It is designed to fit most women, making it a versatile choice for sun protection.
Best Artisan Crafted Wide Brim Hat for Colorful, Sun-Protected Elegance
This Wide Brim Straw Hat is a standout piece, boasting a round crown and an expansive brim that provides optimal sun protection. Crafted from natural straw, it features a multi-colored handwoven design, rendering each piece unique due to the intricate craftsmanship involved.
The hat's wide brim not only shields your face, neck, and shoulders from the sun but also adds a classic touch to the design. It gives the hat a timeless elegance, making it a versatile addition to any wardrobe, whether you're heading to the beach or dressing up for a garden party.
The round crown of the hat adds to its overall charm. It creates a comfortable fit, making it easy to wear for extended periods. Its rounded shape also adds a sense of symmetry and balance to the overall design.
But perhaps the most eye-catching aspect of this hat is its multicolored, handwoven design. The weaving style gives the hat a unique texture and depth, while the different colors create a vibrant, cheerful look. Each hat showcases the artistry of the weaver, with the handcrafted design ensuring no two hats are exactly alike.
Best Two-Tone Travel-Friendly Hat for Chic Summer Style with a Ponytail Twist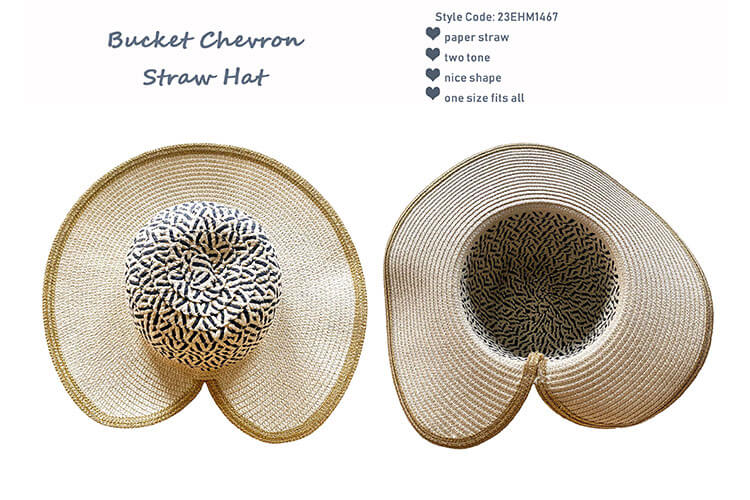 This Two Tone Straw Hat is an on-trend accessory that stylishly caters to your summer needs. Crafted to keep you chic while providing shade, it sports a fun zig zag design in black and natural tones, bringing an air of elegance to your summer attire.
One unique feature of this hat is its detached back design. This ingenious touch allows you to wear your hair in a ponytail, providing an excellent solution for those hot, sunny days when you want to let your hair flow freely without the interference of a traditional hat.
Not only does this hat add style to your ensemble, but it's also incredibly travel-friendly. Its packable nature makes it ideal for tucking away in your suitcase or backpack, ensuring you always have stylish sun protection no matter where your travels take you.
Featuring a black and natural floppy design with a zig-zag pattern, this Two Tone Straw Hat combines fashion and practicality. Its detached back offers a unique ponytail-friendly solution, making it an essential item for your summer wardrobe.
Best Space Dyed Crochet Sun Hat for Breezy Elegance and Ultimate Sun Protection
The San Diego Space Dyed Crochet Sun Hat is a stylish and practical choice for sunny days. It provides excellent sun protection, thanks to its wide brim and round crown design, and it's crafted to instantly elevate your look with its beautiful space dyed crochet construction.
This sun hat comes in a cool blue shade, adding a refreshing touch to your summer outfits. The hat is made from 100% paper, providing a lightweight and comfortable wear for those long, sunny days out.
Despite being one size, this hat features an adjustable aspect, allowing it to fit a variety of head sizes. It measures approximately 57cm in circumference, ensuring a comfortable fit for most.
Maintenance of this sun hat is straightforward. It can be spot cleaned and should be left to dry flat. Overall, the San Diego Hat Co. Space Dyed Crochet Sun Hat is a must-have accessory for anyone seeking a combination of style, comfort, and sun protection.
Best Folk Boho Floppy Wide Brim Hat for Colorful, Relaxed Style and Superior Sun Protection
Relax and embrace the folk boho vibe with this weathered, floppy wide-brim hat. Not only does it provide sun protection, but it also enhances your style with its color accent bands and a braided crown band, made from paper braid. The multi-colored straw adds an extra layer of bohemian charm to this piece.
One of its unique features is its adjustable sizing, allowing you to customize the fit to your comfort. A metal logo badge is also included in the design, lending a hint of subtle sophistication to the hat.
For your comfort, the hat is equipped with an adjustable cotton sweatband, which ensures it sits snugly yet comfortably on your head, even during long wear. With a brim length of 10cm, it provides ample sun protection, shading your face and neck from harmful rays.
The hat is crafted from woven paper, a material that's both durable and lightweight, making it an ideal accessory for outdoor activities in the warmer months. The combination of various straw colors gives this hat a distinctive look, ensuring you stand out in any crowd.
Conclusion
As you embark on your quest for the perfect straw hat, we encourage you to consider one of the top 10 hats reviewed from our selection, expertly crafted by EVELYN- a trusted custom straw hat maker.
Each hat has been carefully chosen to balance comfort, style, and sun protection, ensuring that you make a choice that will elevate your summer wardrobe. By opting for a custom straw hat, you can enjoy the quality craftsmanship and attention to detail that sets these hats apart.
Whether you're heading to the beach, exploring the city, or simply enjoying the outdoors, our custom straw hats are designed to accompany you on your sun-filled adventures. Embrace the charm and uniqueness of a custom-made hat, tailored to your individual taste and preferences.
Make your next straw hat purchase one that reflects your personal style and offers the assurance of exceptional craftsmanship. Trust in our custom straw hat maker and discover the joy of owning a hat that is both functional and fashionable.
Choose one of our top 10 custom straw hats, and let it be a statement piece that not only protects you from the sun but also showcases your unique sense of style. Shop with confidence and embark on a summer filled with style and sun protection.